Eating, drinking, prices and the other stuff in Siem Reap Cambodia
Jan 06, 2018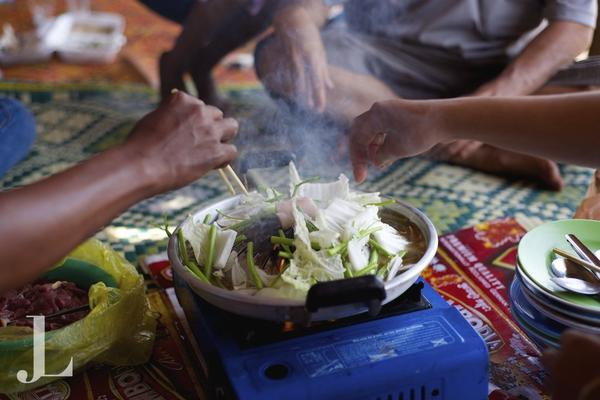 Khmer soup, a bit like a steamboat.
While the first reason to visit Siem Reap in Cambodia is to visit the temples, this is by no means the only reason to visit Siem Reap. There are other key attractions that make four or five days in this region worthwhile. As I mentioned in the last post you need to take the time to get a foot massage especially when you only pay $3 for 30 mins, a Khmer massage is also a must.
The Cambodian cuisine is quite nice, while it contains lots of spices is it by no means as spicy as its neighbour Thailand. For those like me, who like their food spicier, then on almost every restaurant table you will find a bottle of chilli sauce.
Food and drink in Cambodia is ridiculously cheap.
You will almost always pay 'tourist' prices which means your price is rounded up to the nearest US dollar. Ask the price of something you will be told $1, $3 or similar. Even if the local's price is 25 cents. That said you will feel like you are paying too little.
My favourite during my trip was the Cambodian Sandwich, made fresh on a pull cart wherever you happen to be. They start with a small fresh baguette, add spring onion, carrot, cucumber, meat (usually pork), coriander, mayo, sauce and a little chilli if you want. It is very similar to a Vietnamese Pork Roll. In reality it is a fresh sandwich, filling snack, breakfast, lunch or dinner for $1. I lost count of how many I had.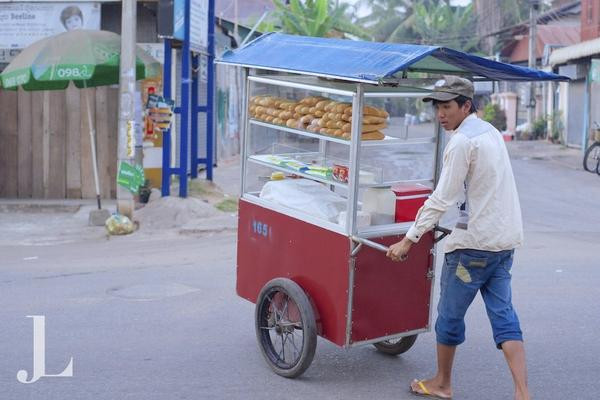 Cambodian Sandwich Cart
The markets are also worth a visit, not the old markets in the middle of town but the real markets. These markets are only a few minutes by tuk tuk from the middle of town, the Psar Leu markets are where the locals shop and every morning they are alive with thousands of people shopping.
Take your time and wander through, you can buy so much here. I will say that while they don't stink you will have a threshold as to how long you can stay in the 'protein' section of the markets. You must see it but do the protein part in smaller chunks.
PROTIP:
Around the markets and in town you will see money changers with huge bundles of notes. Basically they exchange Cambodian Riel to US Dollars. Find a money changer and exchange $10 or $20 US for some Riel. Then when you ask a price for something at a stall in the markets or even in town, flash the Riel not US $. The price you pay will be smaller. For instance I bought a few things that cost me 3000 Riel, which is $0.75, if I had of paid in US$ no doubt I would have paid $1.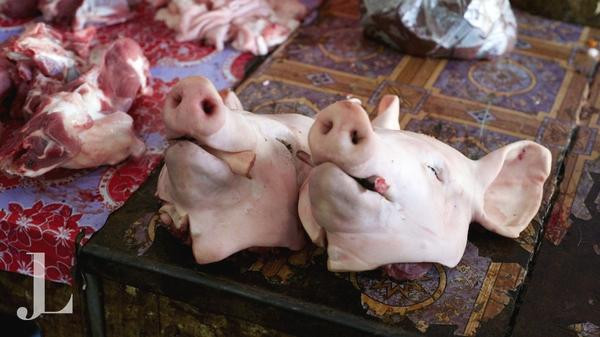 The are some interesting sights in the protein section of the market.
Tipping in Cambodia
As a rule I am not a good tipper, it isn't in our culture here in Australia. If you have a job in Australia, you generally earn a living wage, not like other parts of the world. That said I was quite generous in Cambodia by comparison. Where I have bought something for $3.50 I would round up to $5. While $1.50 meant little to me, that is often a days or hours wages in Cambodia. Some people work for ridiculously small income so every dollar makes a huge difference.
Tipping your masseuse $2 makes little difference to your day but makes a huge difference to the wages of a Cambodian. When eating in restaurants, I found that the more I spent the higher the chance the food was average. Generally the more expensive restaurants cater to the hoards of tourists, many with very bland and boring tastes. Try the cheap restaurants filled with tuk tuk or taxi drivers where $2-$3 goes a long way, You will get great service, a hearty meal and will enjoy much more genuine cuisine with lots of flavour.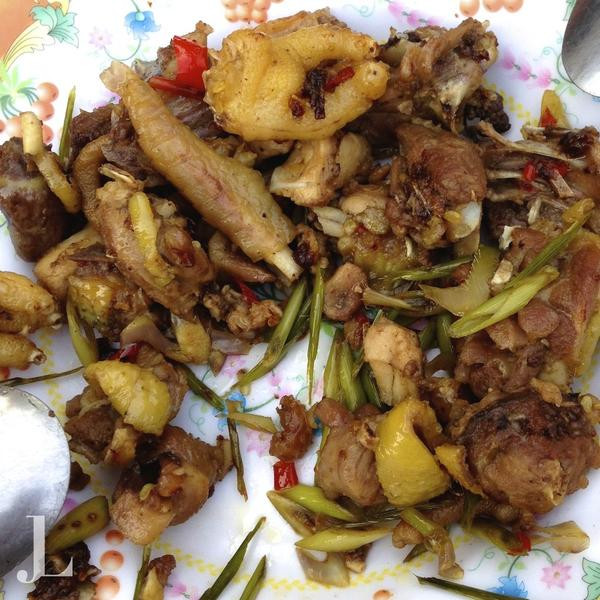 The freshest chicken I have eaten, less than an hour before it was on the plate it was roaming the garden.
The best meals I enjoyed when in Cambodia I shared with locals. One night, Lean (my driver) and I shared a Khmer soup which is a bit like a steamboat meal. For under $5 including a few beers the pair of us were well fed. I pay $5 for a cappuccino in Newcastle.
Let alone a few beers and dinner for two. On another night we hit a beer garden for dinner, we had a big beer which was about 2 litres for $4, fried rice, BBQ pork, BBQ frog (yes frog and it was just yummy), some beef and other dishes. We ended up with four of us around the table and spent less than $20 including a tip.
Beer in Cambodia
Beer is a different experience in Cambodia, not because the beer tastes any different but there are two key differences. The first is that you WILL drink your beer with ice in it. Yes, I know, WHAT THE?, I held out for a couple then succumbed because I decided that cold but slightly watered down beer is far better than warm beer.
As a general rule refrigeration is limited in Cambodia especially when you step away from the hotels and the tourist only restaurants. Ice is the main and sometimes only form of refrigeration. Ice is delivered daily to restaurants on the back of flat top trucks and portioned up with a saw or a machete.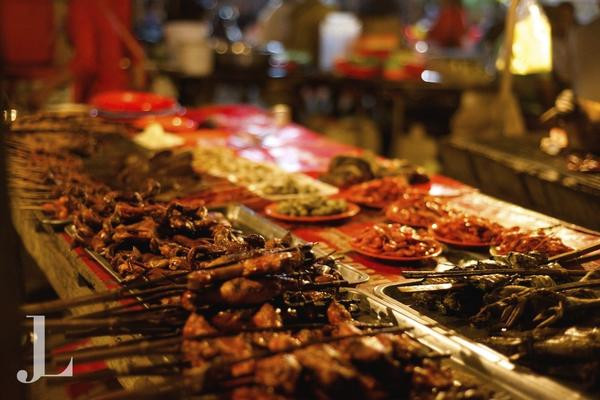 BBQ meat from one of the many vendors at 60 Road.
So drinking beer with ice in it is normal and something that I ended up enjoying, I drank a fair amount of Angkor beer and enjoyed it. The other thing about beer is it is CHEAP! Scary cheap! In restaurants expect to pay 50 cents to a dollar for a can. You can buy a case of 24 for $12 or less. So when I am used to paying $60, $70 or even $100 for a case of beer $12 is just insane. Enjoy it with ice and with friends.
Next time I will return to the temples but it is always important to stop for food and drink.
As a traveller and photographic artist I make my living by selling art prints of my photography from my travels within Australia and around the world like Siem Reap. If you enjoyed this blog then I would love you to check out my photographic art from the trip.
Want a beautiful art print from the temples and other beautiful landscapes in Angkor? Search Angkor in the search bar at the top of this page.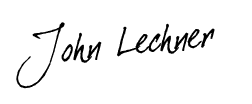 John
Inspire, travel, live life