BEHIND THE IMAGE: Double Bogey - Mentoring and finding the sweet spot at The Bogey Hole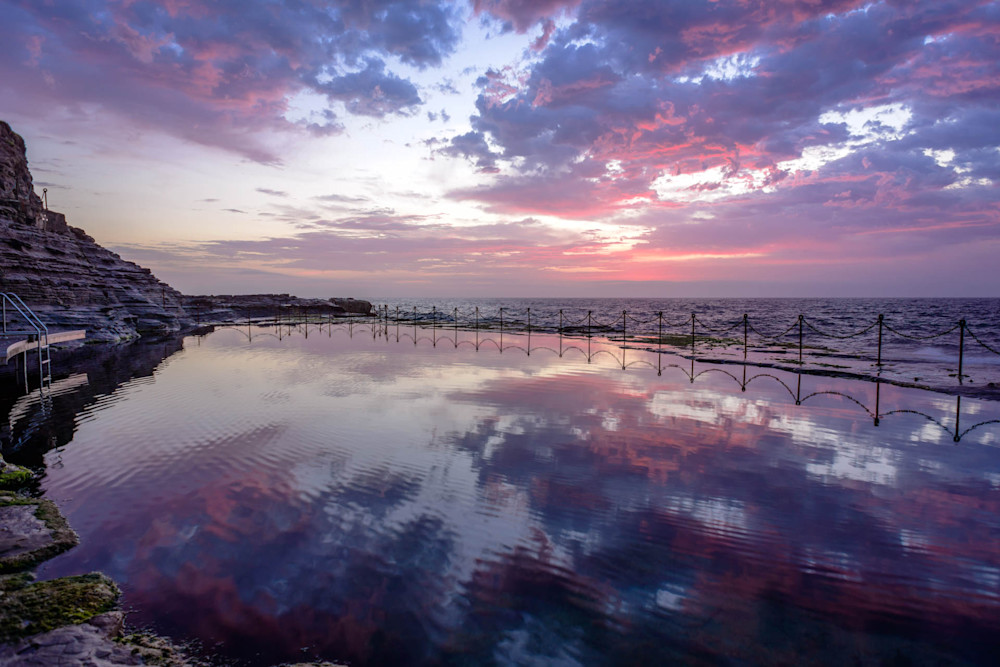 There is a phenomenon in photography circles that I don't enjoy and will always do my best to avoid, the meet up. Often 10-30 photographers will choose a time and location and go on a group shoot.
I just don't like it. My idea of the perfect shoot is standing on the beach, my bare feet in the sand, waiting for the sunrise, on my own, the entire beach to myself. Surprisingly when I do it 95% of the time I do have the beach to myself, at least for the first hour or two.
There was an occasion last year when I planned a sunrise at Merewether Baths and for an hour I was alone, then 2, 3, 5 and eventually 20 odd photographers swarmed around me. After the first couple of bunches I started packing up and then headed off to another spot, Nobbys from memory.
I enjoy the solitude of an early morning shoot.
That said there are often opportunities when I have the chance to work with another person to help or encourage their photography and this week I had the chance to mentor a young photographer Tyler.
Tyler is the son of a good friend, colleague and client. We planned to head out early on Monday morning to capture a sunrise somewhere on the coastline around Newcastle.
We spent the drive in talking some of the theory of photography as well as some of the techniques that are most important to focus on.
Generally I am a no BS kind of guy, there are things that some photographers do just because it is harder, I don't subscribe to that theory. If there is technique or trick to make life easier then I use it.
Once on site we got our respective cameras set up and waited for the light.
To be honest it was one of those mornings that could have gone either way. There was some heavy cloud, particularly on the horizon which is never a good sign. But importantly for us, there was no wind down on the surface of the Bogey Hole.
So I was hopeful we might see some beautiful light and catch some great reflections. In the end I think the results speak for themselves and Tyler also got some great shots. I hope that I was able to help him a little on his personal photography path.
The image had a huge response on my social media channels so I knew we had something special, and the name "Double Bogey" was suggested by Barry a former colleague from my days at Mai-Wel.

Mock up Triptych - Overall 2500x900mm
Have an amazing week
John
PS. I did enjoy my morning with Tyler and have resolved to step outside my comfort zone more often to share a sunrise with other photographers. I now run Adventure Photography where I teach photographers the secrets to great landscape photography on our overnight weekend photography courses, want to join us? Check out upcoming Adventure Photography courses here.